Farm & Ranch Insurance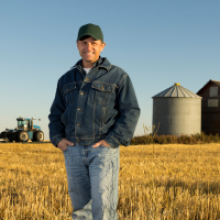 Nebraska Insurance knows agriculture. Whether you run a small or large operation, own or rent your property and land, or raise crops or livestock, Nebraska Insurance will find the policies that fit your needs.
Farm/Ranch Homeowner coverage offers personal belonging and household coverage with your farm/ranch policy.
Farm/Ranch Property coverage protects your property and land when your personal belongings and household are covered through another policy.
Farm/Ranch Renter coverage combines personal and household coverage with farm and ranch coverage for renters.
Livestock Risk Protection

Where are these livestock prices going to be when you are ready to sell? Livestock Risk Protection offers security against a decline in the market price. This is a great tool to take the uncertainty out of the market volatility and puts a pricing floor on your calves or feeder cattle. LRP is sold at coverage levels and is government subsidized at 13% similar to crop insurance. Not only does your banker like it, but you will sleep better too. Call Jeff Smeltzer at Nebraska Insurance for a free no obligation quote and learn how LRP can reduce price volatility and risk in your cattle operation.
Crop & Hail Coverage

Crop & Hail coverage provides protection against physical damage from hail and/or fire. Other coverages provided include fire department service charges, transit coverage to the first place of storage, catastrophe loss award (most coverages) and replanting coverage (most crops). Options exist in some areas for other perils, such as wind and theft.
Crop & Hail coverage can be used along with Mulitple Peril Crop Insurance (MPCI) or other comprehensive coverages to offset the MPCI deductible and provide protection up to the actual cash value of the crop. Coverage is provided on an acre-by-acre basis, so damage that occurs on only part of a farm may be eligible for payment when the rest of the unit remains unaffected.
If a grower has coverage and bumper crop yields or higher prices become apparent, coverage can be increased during the growing season to cover the value of the crop.
Dollar Guarantee
A dollar amount of coverage per acre is selected by the grower. Options with different deductibles may be selected to permit a grower to partially self-insure for reduced premium costs.
Loss Payment
To calculate a payable loss, multiply the amount of coverage per acre applying on the date of loss by the damaged acreage and the percentage of loss, less any deductibles.
How It Works
Coverage Details Loss Payment $250 of coverage per acre Dollar Guarantee .......(20 A. x $250/A.) = $5,000
No-deductible policy Percentage of Loss................................................................ 40%
20 acres of damaged corn Loss Payment ............................................................. ($5,000 x 40%) = $2,000
Hail caused 40% damage
100% ownership
Benefits
Protects profits
Fosters greater grower confidence to do pre-harvest crop sales
Protects crops up to the full value
Acre-by-acre coverage provides protection from isolated damage
May be used as loan collateral
Rewards the more businesslike grower
Discover how crop insurance can provide worry-free protection for the tough times
Availability
Crop & Hail coverage is available in all states in the United States, and in Alberta, Manitoba and Saskatchewan in Canada. Coverages and options vary by geographical area and crop.
Multiple Peril Crop Insurance (MPCI)
Multiple Peril Crop Insurance (MPCI) provides comprehensive protection against weather-related causes of loss and certain other unavoidable perils. Coverage is available on over 76 crops in primary production areas throughout the U.S. at 50 to 75 percent (up to 85 percent in certain counties) of the actual production history (APH) for the farm. An indemnity price election from 60 to 100 percent of the Federal Crop Insurance Corporation expected market price is selected at the time of purchase.

MPCI coverage provides protection against low yields, poor quality, late planting, replanting costs and prevented planting (coverages vary based upon geographic location and crop - always read your policy language to determine the coverage for your specific crops).
Drought Insurance

Are we still in a drought? With the varying drought conditions here in Nebraska, spring and summer grazing conditions could have a significant financial impact on your operation for this next year. You should know that you have options that can help you protect against lack of precipitation. Call Jeff Smeltzer today to get a quote on drought insurance for your rangeland.
PIVOT Insurance
When disaster strikes…..Are you prepared?  Save time and money by protecting your investment with an irrigation equipment policy with a choice of deductibles that fits your needs. Nebraska Insurance offers stand-alone insurance for center pivots or insure it under your farm policy at full replacement cost no matter the age.